Looking Back on 8 Years of Painting – Part 2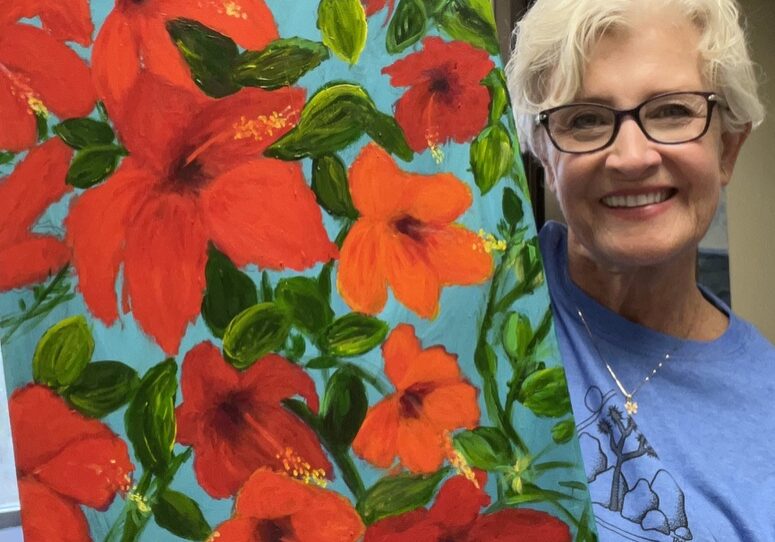 Phase two of my artist career involves having my own studio. I was lucky to secure a sub-lease on a small studio at Pendleton Art Center in Cincinnati in 2020. This was during the height of the pandemic and it was the perfect place for me to go paint while social distancing from others. Unfortunately, the Final Friday tradition was put on hold during my first year at Pendleton.
Next, in 2021, I was offered a larger studio space at Pendleton so I moved upstairs and was thrilled with all the light and more room to display my paintings. By the end of the year, however, my husband and I were moving to Florida so I abandoned my beautiful studio and wasn't sure about where my art career would go at that point.
I checked out the artist scene in Sarasota and found a thriving community, but no good options for a studio space. I set up a small painting table at home and kept my Cincinnati studio with everything in place while I pondered the future. But luckily in 2022, I found a very tiny space in a building at St. Armands Circle and we made the trip to pack up my Cincinnati studio and move most everything to Florida.
Much of my work has shifted to coastal and tropical themes while I am still painting florals and commissions for family and friends. I love painting here where the colors of the aqua water inspire me every day.
Fast forward to this April of 2023, I was able to move down the hall to a much larger space with tons of bright light streaming in for my painting work and gallery exhibit. So in less than four years, I've moved my art business four times! I am hoping to stay for awhile at my new space at St. Armands Circle. The studio is open a few days each week and I offer appointments for visitors. Another lucky break is that some of my paintings are available at two lovely shops on the first floor of my building. Ancient Olive is a gourmet food store and has about 15 of my paintings. Just below me is a wonderful gift shop, Garden Argosy, and they carry about a half dozen of my coastal artwork paintings. I hope if you are visiting or live in Sarasota, you will visit my studio and these two neighborhood shops.